Presentation of Beef Cattle in Viöl 2016
Sun, more sun and breeding cattle of outstanding quality seemed to be the motto of this year's beef cattle state show, which was held as a part of the annual farmer's market in Viöl on 8 May 2016. Besides numerous animals of the Galloway, Highland Cattle, Dexter, and Angus breeds, breeders also showed Limousin, Shorthorn, and Water Buffaloes. Uwe Harstel of the Cattle Alliance Sachsen-Anhalt judged the event in a professional and accountable manner.
Angus: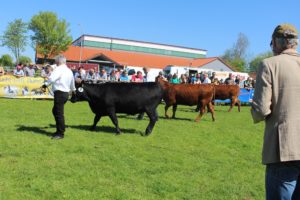 Three excellent Angus heifers were shown: Amazone of the Angus North-East breeder's society (red, S. Voigt and B. Röbbel ), the also red Cranberry of Christelhoi, as well as the black Mady 14 (see Table). The latter placed first as she was furthest developed in this age group.
Heifers:
Mady 14
(V: Threeburnford Leander x MV: Greenstone) 1a Kurt Clausen, Satrup
Cranberry von Christelhoi
(V:Red DMM Brylor Thump x MV: Red Fine Line Mulberry) 1b Kurt Clausen, Satrup
Further impressions of the Beef Cattle show in Viöl
By courtesy of the FRZ and Britta Reulecke